For at least the second time in a month, UK band Bring Me The Horizon have found themselves in the middle of a brawl at one of their own shows. Last time it was Salt Lake City, this time it's Helsinki, Finland.
It seems that a heckler in the crowd got under guitarist Jona Weinhofen's skin, so he proceeded to jump into the audience and throw a few punches. Not to be outdone, frontman Oli Sykes got in on the action, allegedly using his microphone as a weapon. Security arrived fairly quickly and the band went on to finish their set (albeit prematurely). Read more of the story here.
As you might imagine, the whole thing has been caught on video. Check it out here (Weinhofen is in the black shirt, Sykes in the white tank top).
Weinhofen went on to tweet that he broke his hand, and offered the following picture as evidence.
DISCLAIMER : We at Dying Scene do not condone senseless acts of violence at shows. We should all go to shows for the same reason – live music.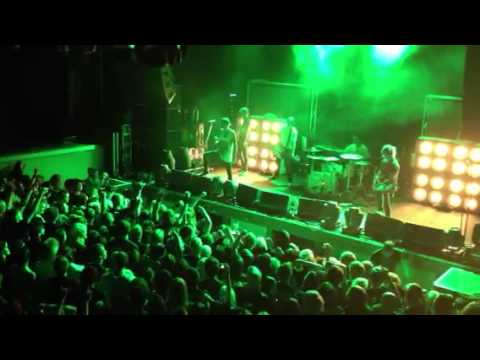 Add Bring Me The Horizon to My Radar